Background Digitalizing of therapy
Scientific research shows that more frequent and more intensive aphasia therapy has a positive effect on the recovery of the language skill. This improves the well-being of the person with aphasia. Ensuring frequent and intensive individual aphasia therapy however, is in clinical practice often a challenge.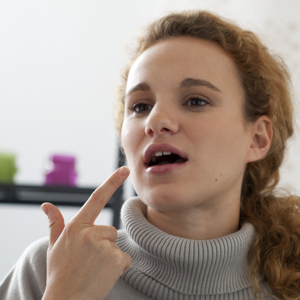 A practice program on the computer, based on the most recent insights from the literature and individualized for every patient with aphasia, could meet this challenge. Logoclicks, a validated online speech therapy platform, allows persons with aphasia to practice intensively under the professional guidance of a speech therapist.
The framework behind the online platform is being developed by three cooperating University Colleges and is based on the most recent findings around effectiveness of interventions for persons with aphasia.
The program also captures the results rigorously per treatment session in order to follow/decide about treatment progress. It is expected that the effectiveness of therapy will increase and the production cost will come down because, among other things, the total treatment duration will be shortened.
Aims Digitalizing of therapy
The target group consists of:
registered speech therapists who treat persons with aphasia and work in a private practice or are attached to a hospital, rehabilitation center, nursing home or aphasia center,
people with aphasia in the rehabilitation phase or chronic phase who by exercise will improve their language skills.
Logoclicks does not replace any therapy, but adds additional opportunities for place- and time-independent therapy, increases the treatment frequency and personalizes the treatment. The purpose of Logoclicks is to improve language skills, self-reliance and well-being of persons with aphasia.
Results Digitalizing of therapy
Result and outcome after the development of the program is a validated treatment tool/product. The person with aphasia can log in through a desktop, laptop or tablet with internet connection. The speech therapist can determine the degree of difficulty of the exercises, give homework assignments and discuss progress (based on saved exercises).
Conclusions Digitalizing of therapy
This study will focus on important aspects of developing digitalized therapy, including how and when to measure/evaluate progress, motivation/adherence of patients to the program, how to accommodate patient diversity and what the constituting evidence-based elements of the program are.
Implications for clinical practice
The platform is dynamic, as it is digital and it can easily be kept up to date. Therapists get easy access to topical material without a need of an extra personal investments. This is a major step forward in the treatment of persons with
Authors:
BELGIUM: Hoppenbrouwers L. (lieke.hoppenbrouwers@thomasmore.be), Vandenborre, D. and Van Eerdenbrugh, S., Thomas More University College – Department of Speech and Language Pathology, Antwerp, Belgium
THE NETHERLANDS: van Ewijk, L.– University College Utrecht, The Netherlands, Neijenhuis, K. – University College Rotterdam, The Netherlands